Most Popular Products
Providing superior grade HDPE Grass Paver, Pvc Cover Block, Plastic Grass Paver, Tile Spacer etc., at industrial leading rates.
About Our Company
Are you looking for exceptional quality construction materials then, we, Rightvision (India) Private Limited, are the right destination for you. We started our journey in the year 1999 and have evolved at a rapid pace as a Manufacturer, Supplier and Service Provider. The varied types of construction materials that we deal in includes Cover Block, PVC Cover Block, PVC Sleeve Cone, HDPE Grass Paver, Plastic Grass Paver, PVC Tile Spacer, ABS Grating, HDPE Footrest, Grillo and many more. Our offered Cover Block made of HDPE/PVC is way better than the Convention Concrete Cover Block for various reasons like its uniqueness, environment friendliness, heavy load bearing, effective, easy and quick to install, resistant to acid and water and allied attributes.
We have used unmatched quality raw materials to make these pavers and blocks so that our entire gamut complies with the construction industrys quality standards. Our products find their application in Churches, Golf Car Parks, Soil stabilization, Amenity Areas and allied areas. Moreover, our high quality products have been used in the construction of Lajpat Nagar Flyover Gammon, Pimpri Flyover Pune, T-3 Terminal, DLF Kolkata, Waves Noida and allied places. There are various other globally recognized names in our book of clients to whom we have provided our products. We also hold rich expertise in rendering Marketing Consultancy Services.
Job Work
Besides all this, we also undertake job work for notable manufacturing companies. One of the prominent names for whom we have worked is Motherson Automotive Technologies & Engg. A Noida based in firm and till date they are in our certified vendors list.
Our Product Portfolio
We are engaged in the manufacturing and supplying of a wide range of construction materials, Pvc Cover Block, Plastic Grass Paver out of which we have mentioned few in the below table:
A. Shuttering Products: (Available in Various Sizes and Shape as per IS Codes)


Cover Block Chair Type
Cover Block Clip Type
Cover Block Circular Type
Pvc Sleeve Cone
Pvc Anchor Cone
Pvc Reducer
Pvc Chamfer
Pvc Shim
Formwork Cone
U Packing
Footrest

B. Interior Products: (Available in Various Sizes as per IS Codes)


C. Landscaping Products: (Available in Various Sizes as per IS Codes)


HDPE Grass Paver
Drain Cell
Geotextil

D. Customized Products: Highly Specialized Customized Engineering Products (Made to Order)


HDPE Diabolo
Nylon/PP Diabolo
Nylon/PP Bellmouth
Survey Insert and Plates
ABS Battery Box for Robot



Vision & Ethics
Our mission is to reach on the top most ladder of success with the vision of fairness, clarity and transparency. All our future actions are planned keeping in mind our final objective. We seek to provide many other successful projects to the building and construction industry with the right vision.
Moreover, as per our business ethics during the manufacturing process we make sure that we in no way pollute the environment by generating toxic pollutants or waste materials. Infact, the waste produced by our factory can be recycled.
Successful Projects
Some of our other projects that have been a great success are mentioned below:
DLF Camellias, Kolkatta, Hyderabad
ILFS, Gurgoan
Lajpat Nagar Flyover -Gammon
NTPC Tunnel Tapovan
Pimpri Flyover Pune
Stellar Jeevan
T-3 Terminal
Tyagraj Stadium
Vipul Group Gurgoan
Waves Noida
Awards and Recognition
Over the years the various awards and accolades that we have received in the industry are mentioned below:
Evaluated by NSIC-D&B-SMERA for SE 3B level performance and Credit Rating for 2013-14.
Udyog Shiromani Puraskar awarded by Institute of Economic Studies, New Delhi
in 2003.
Various awards for display, technology and participation in different exhibitions specific to construction industry
Our Clients
Our most reputed patrons from various sectors that are immensely satisfied by our goods and services are named in the below table:
Ajnara
Amrapali Group
Anant Raj
CEC
DLF
DMRC
DS Group
ERA Group
GS Developers
HCC
IL & FS
ITDC
IVRCL

Jaykumar
L &T
Leighton
Mehcon
Navyuga Group
Pratibha Group
Shapoorji Pollonji
SPME Engg
Stellar
Unitech
Urban Eco
Vipul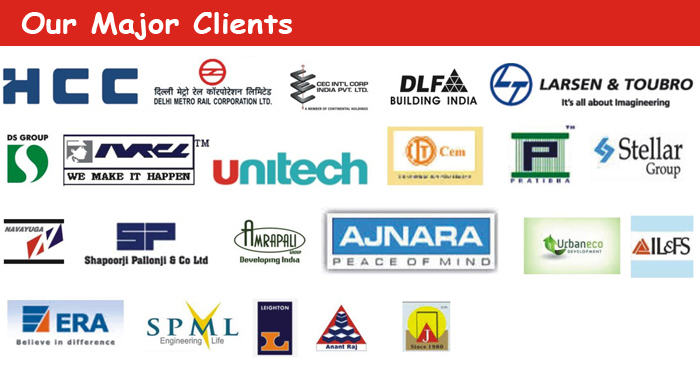 Noida, Uttar Pradesh, India
A-4/4, Sector-80, Phase-II,Noida - 201305, Uttar Pradesh, India
Phone :91-120-4280646
Fax :91-120-4280646
Mr BP Bharti (Director)
Mobile :+919810526627, +918800715672